We looked inside some of the tweets by @JoeBiden and found useful information for you.
Inside 100 Tweets
Time between tweets:
an hour
Tweets with photos
5 / 100
Tweets with videos
30 / 100
Rankings
(sorted by number of followers)
64% of consumers have made a purchase decision based on social content.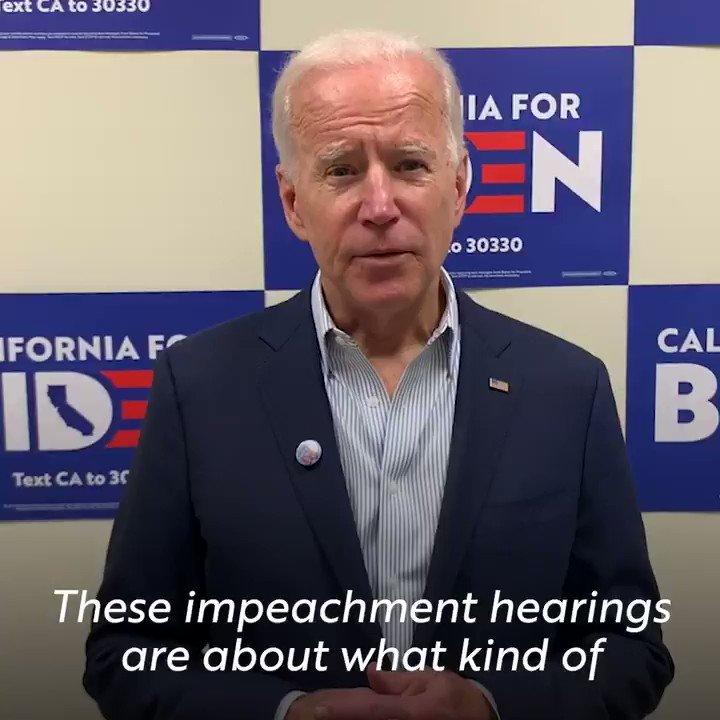 I believe these impeachment hearings will conclude that Donald Trump is a threat to our national security. Every day he sits in the Oval Office is a dangerous day for the U.S. If you agree, chip in to help us make Donald Trump a one-term president: https://joe.link/2QlqQ7C 
Quoted @nytimes
FedEx's tax bill went from $1.5 billion to $0 in a single year. What changed? The Trump administration's tax cut — for which the company had lobbied hard. https://nyti.ms/37iwi1h 
Corporations need to pay their fair share in taxes. I'll reverse Trump's giveaway to the super-wealthy and corporations because it's time we reward work, not just wealth.
The American people deserve to know what the most corrupt president in modern history is hiding in his tax returns.
Trump's intervention in the American military justice system to pardon service members accused or convicted of war crimes betrays the rule of law, the values that make our country exceptional & the men and women who wear the uniform honorably. He is not fit to command our troops.
The Foreign Service Officers who testified this week represent the best of America. They deserve our support & thanks for their work to advance American interests, not the scorn & harassment they get from the President. Every day, Donald Trump reminds us he's unfit to serve.
My favorite part of running for president is talking with people about their lives. So my team and I are going to pick someone to fly out to come meet me on the trail and share a meal, all expenses on us. If you want to grab dinner, chip in today:
America is more equal because of Chief Justice Mark Cady. His landmark decision brought marriage equality to Iowa and pushed our nation closer to our highest ideals. @DrBiden and I send our condolences to his loved ones. His integrity and commitment to justice will be missed.
President Trump continues to undermine registered apprenticeships—programs that provide a path to the middle class & a good union job. As president, I will work to save these important programs & ensure every American has the skills they need to get ahead. #SaveApprenticeshipWeek
I'm proud to support @LREAintheRock and those fighting to ensure every child has access to the quality education they deserve.
Quoted @nytimes
The mayor of Venice has called for a state of emergency and the closing of all schools after the Italian city was submerged under "acqua alta," an exceptionally high tide — the highest in 50 years https://nyti.ms/34YohfU 
If we don't get Donald Trump out of the White House and take urgent, drastic action to address the climate emergency, our planet may never recover.
Quoted @nytimes
Breaking News: President Trump asked the U.S. Supreme Court to bar the release of his tax returns. The case could yield a major ruling on presidential immunity. https://nyti.ms/3504a0K 
.@realDonaldTrump, release your taxes or shut up about corruption.